CMS Proto-X - interlacing control and monitoring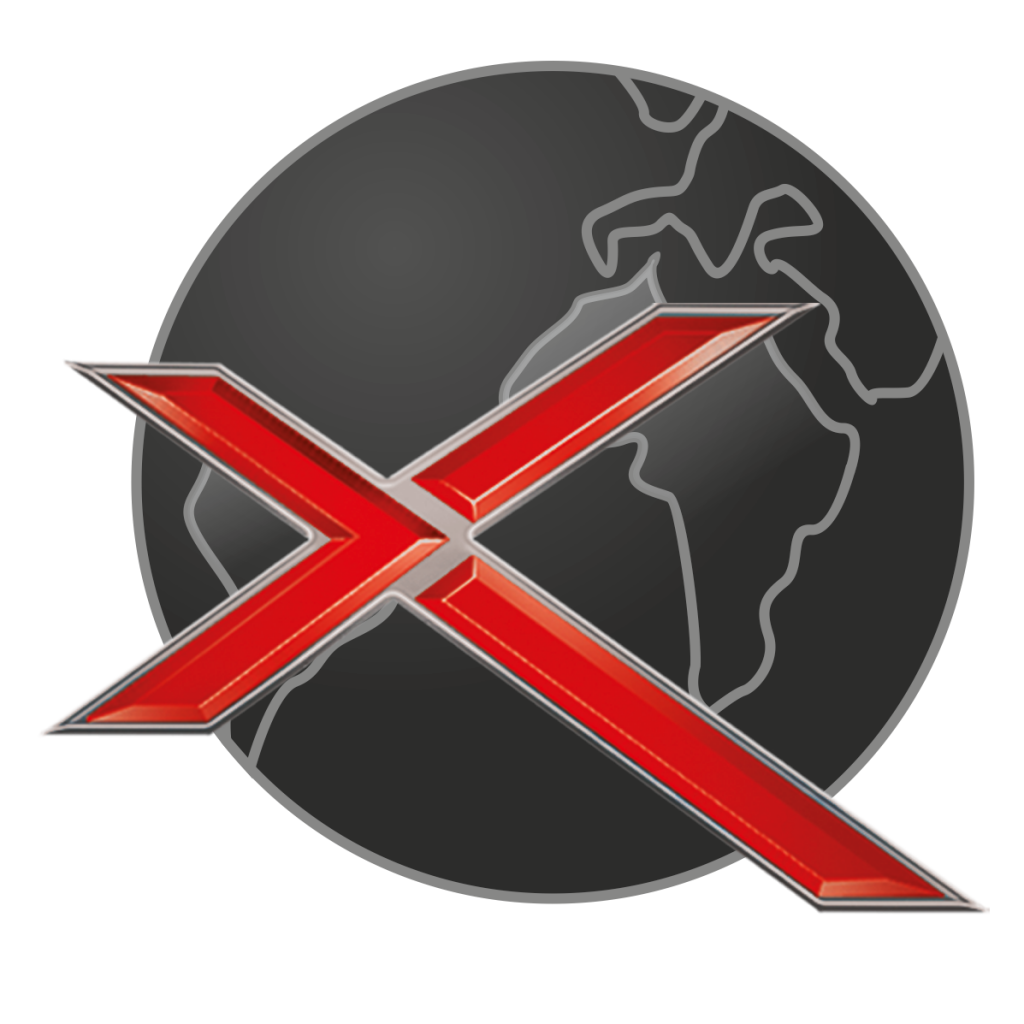 CMS Proto-X is a system of an interlacing control and monitoring of a network equipment of TM "ProtoX". It fas an intuitive and user-friendly graphic interface. Due to this CMS an opportunity to create an integrated security system became possible with a unified interlacing control from a command control center.

A presence of an operator, who's responsible for a safety and security, is required on each object for a remote obseravation whether an office, store chain or complex of buildings. CMS Proto-X enables to organize a remote monitoring not having recourse to people, located on the object. One person - the main video surveillance operator, who can see everything happened on guarded objects, is needed for that with the help of CMS.

FEATURES OF CMS PROTO-X
Support of 8 languages, icluding a complete Russian translation;
Support of all Proto-X devices: DVR, NVR, IP-cameras;
Auto search of devices in a local netwok;
Simultaneous playback of u to 64 cameras;
Switch on/off, set up of a remote and local record constantly, by alarm, by schedule, by detectors, by movement;
Any access loc button (viewing only);
TV WALL function – video translation to 36 remote monitors;
Audio-chat function – two-way audio transmittion;
Detailed log;
Ability to take and view screenshots;
Ability to a remote PTZ-conrtol;
Detailed adgustment of the image from the camera;
Full access to a remote device configuration (DVR and NVR);
E-map fuction – locating and viewing the camera on a plan or map;
Works with Windows OS, beginning with Windows 2000;
Alarm signal control in real time  by logs and audio signal;
Ability to output the alarm signal on an external device with the help of CMS;
Style design, easy control.
A main window consists of following functional areas:
INTERFACE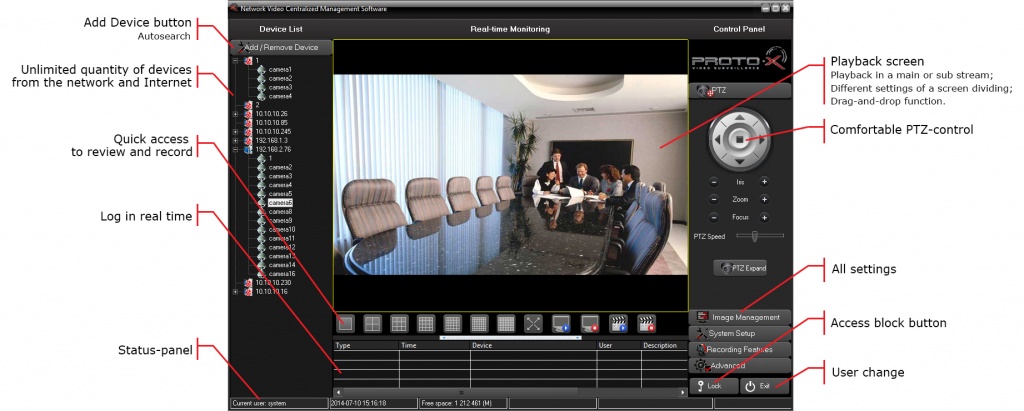 CMS Proto-X offers to choose one of available languages under a first start-up; mark "Remember" to do not show that again.
CHOOSE THE LANGUAGE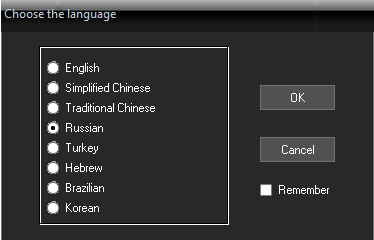 CMS Proto-X supports following device types: DVR , NVR and IP-video cameras of TM "Proto-X". There is a function of autosearch inside the local network. Also you can connect via cloud service (P2P), entering the IP-address instead of it's ID and typing "0" in the "Port" field. A user name and password are the same as for a connecting device.
DEVICE MANAGEMENT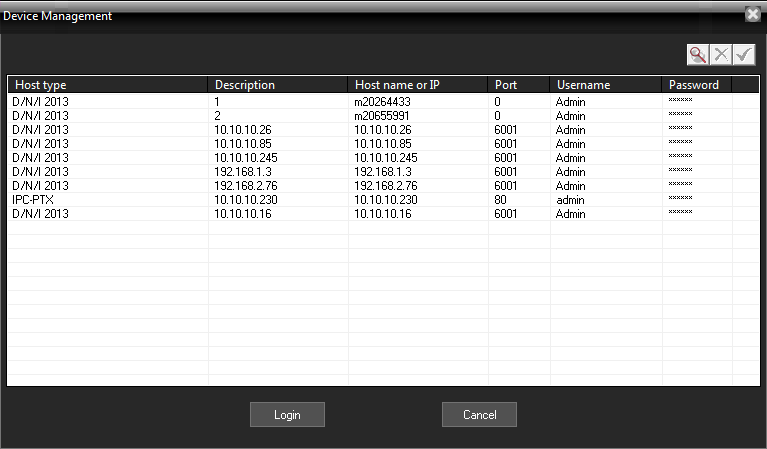 CMS Proto-X allows to differentiate user rights to one or another settings and functions very flexible.
ACCESS LEVELS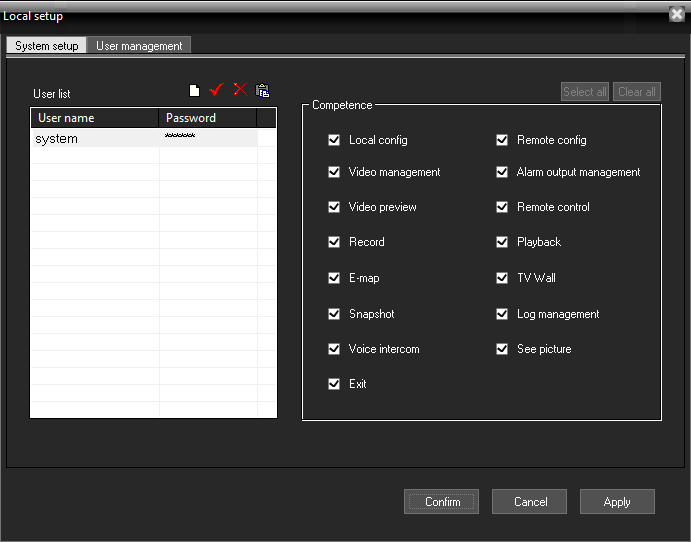 Moreover, all changes of settings and playback parameters can be blocked using a block function. Click the "Block" button in the bottom-right corner to activate that.
"Local settings" menu allows to get an access from a control center to dettings both CMS and remote devices, whether DVR or NVR.

LOCAL SETTINGS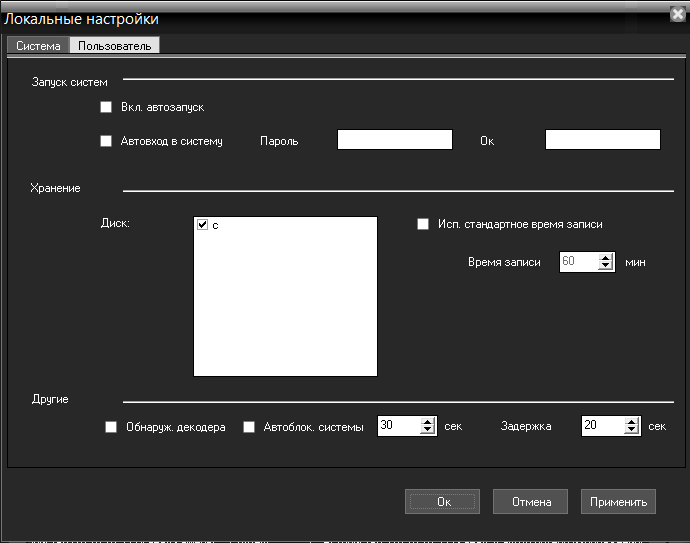 An access to video recordings, saved on HDDs of remote devices (NVR, DVR) is meant in CMS Proto-X for a playbwck on the embedded player or copy on the main operator PC. The embedded player supports the simultaneous playback of up to 4 channels and enables to search required recording intervas.
REMOTE PLAYER


Besides video player, CMS Proto-X has a convenient player for remote recordings, made by CMS and saved on the main operator PC. There is an ability to make a plan of record for a week accurate up to a second for every device, which is within the network.
SCHEDULE SETTING-UP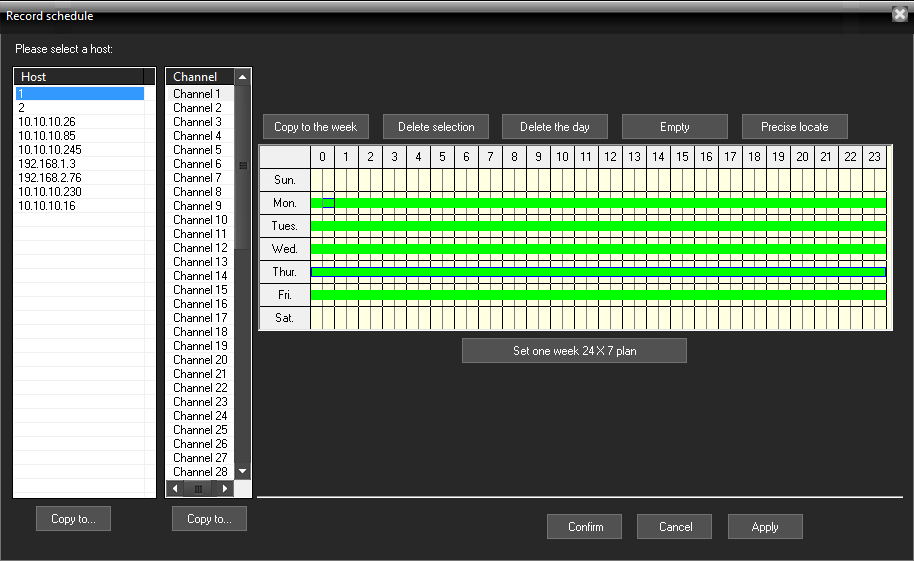 LOCAL PLAYER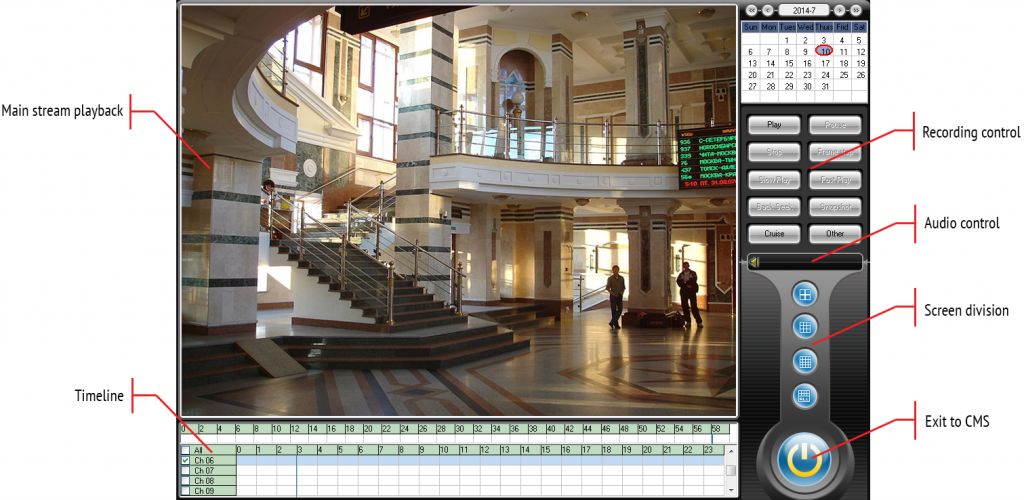 CMS Proto-X can record a video under an alarm signal, for example, a motion detection on any camera. You can use the map for a quick camera localization, sended an alarm signal. You can detect momntally, where an illegal motion was detected if you place cameras on the map and set up the alarm by the map.

RECORDING BY ALARM

Speed Dome cameras with PTZ-support, ig they are mounted nearby, can be controlled with the help of CMS for a monitoring of trespasser movements. It's needed to choose the speed dome camera with PTZ-support in a device list and click the "PTZ" button on a control console.
PTZSETTINGS CONTROL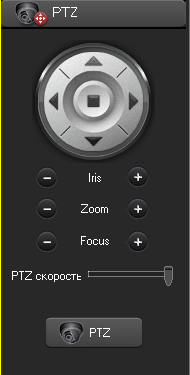 A "PTZ Control" menu allows to set presets or a group of presets for an automatic security following in a needed path.

A "TV wall" function is one more interesting feature. The given function enables a multivision control from the control center, providing a remote wall control.
TV WALL FUNCTION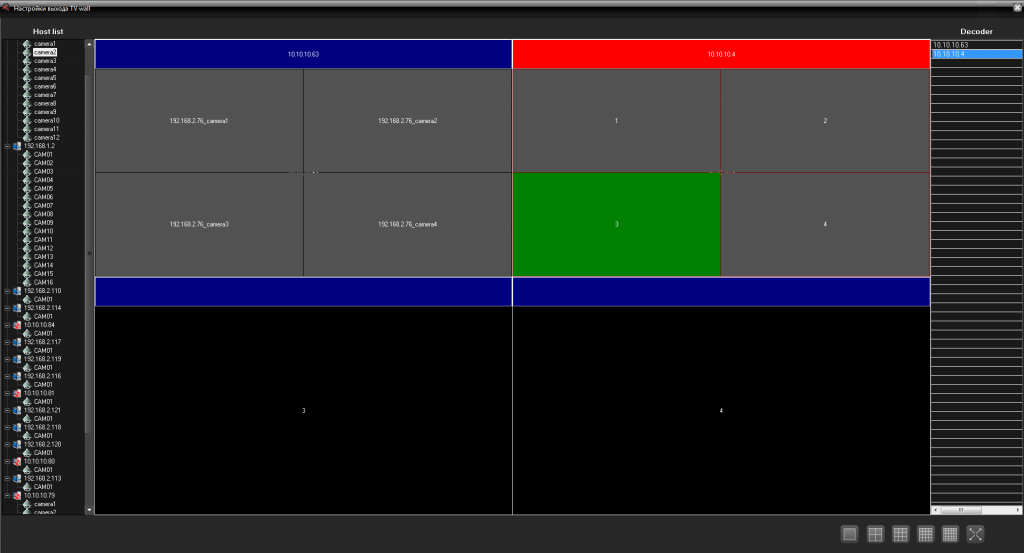 A special video decoder is needed for for a TV wall connection, which should be connected to several IP-cameras, which will form the TV wall. The wall control is performed with the help of CMS unless the decoder access is necessary.