Advantages of the new "SkyCell" interface
Budget models of analog and network video recorders of TM "Proto-X" are working now on the base of the new "SkyCell" software, supplied as a part of the package. "SkyCell" has an intuitive and ergonomic interface. Also it has extended functional capabilities, which have the advantage of other devices of an equivalent price segment.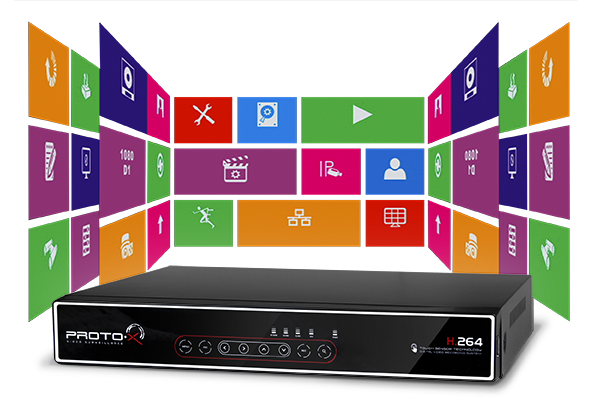 PIP (Picture In Picture)*
A technology, allowing to do not switch channels, while reviewing one of them on a full screen, and see an imafe from an another channel at option anywhere on the screen. There is an opportunity to change channels by drag-and-drop function.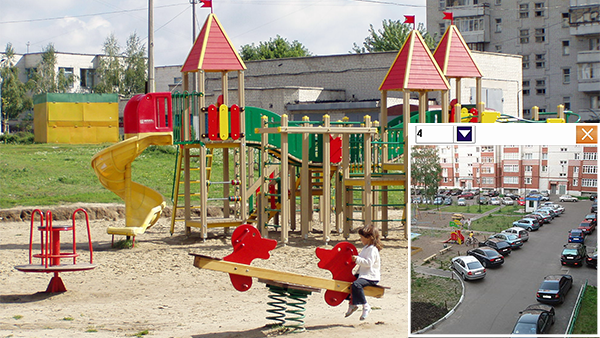 Quick Playback*
A function of a fast transition in an archive and playback recordings for 15 seconds backwards, 30 seconds backwards, 1 minute backwards from the current time.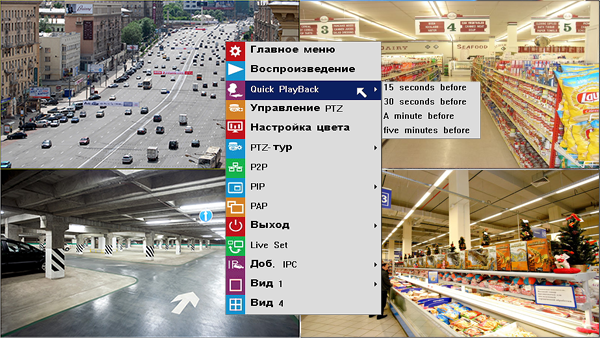 Slice Recording*
The prescribed function provides a way to control the chosen time lapse exactly (hour, 10 hours etc.) dividing that by several exual intervals (4, 9 or 16), which can be controlled more preciesly, for example, a car on a parking, a time of its arrival and departure from a territory.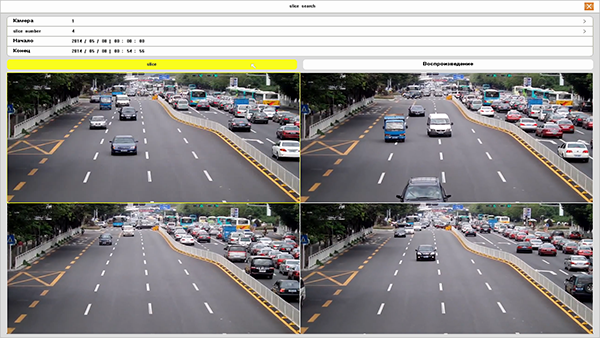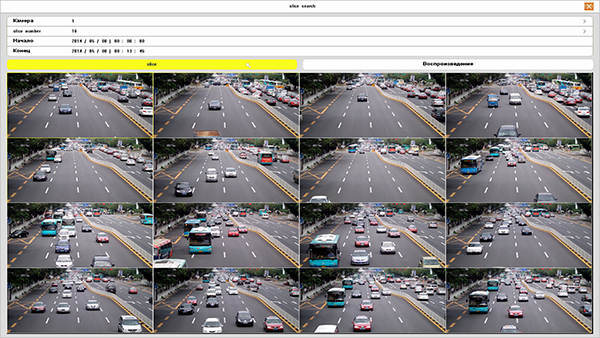 PAP*
A function of zoom in and control of several areas ont the currentimage in real time. It's actual while connecting to 3-5 Mp cameras for a detalized control of especial sections.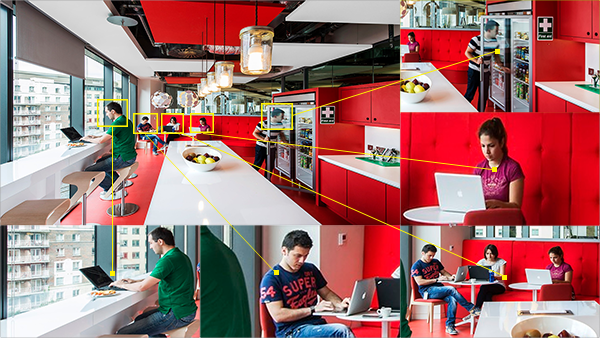 Live Set*
With the help of Live Set function you can choose, which one stream of two IP-camera ones (main or sub) will be displayed on the screen for each channel of the video recorder in a multivision mode.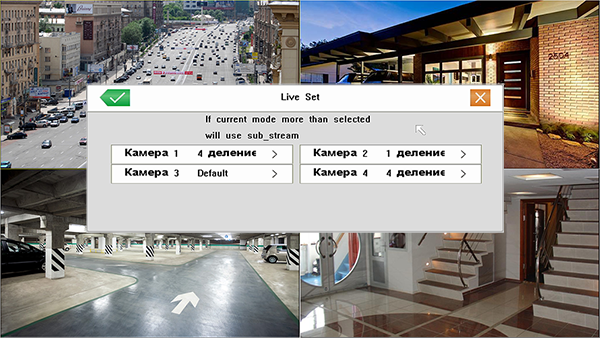 Auto add IPC*
A function of the automatic addition of IP-cameras, placed in one subnet with the video recorder. There is no need to add IP-addresses of video cameras manually - the NVR software will add video cameras in the system by itself.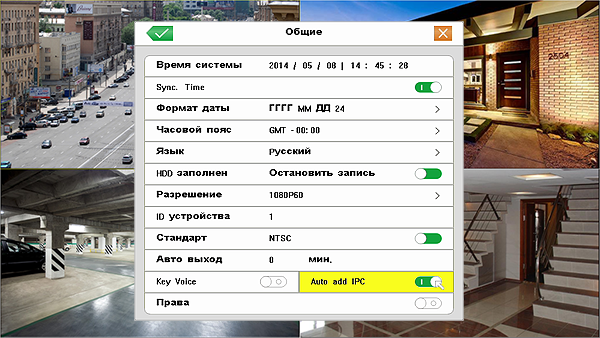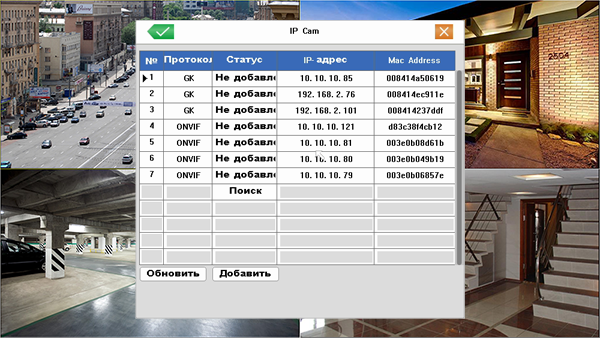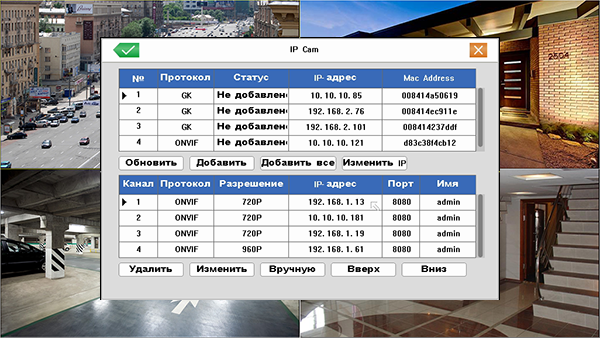 * Prescribed functions are available for network video recorders only.
Further capabilities for a remote overview and administering

·   An availability of the native CMS Vision and CMS IP Surveillance software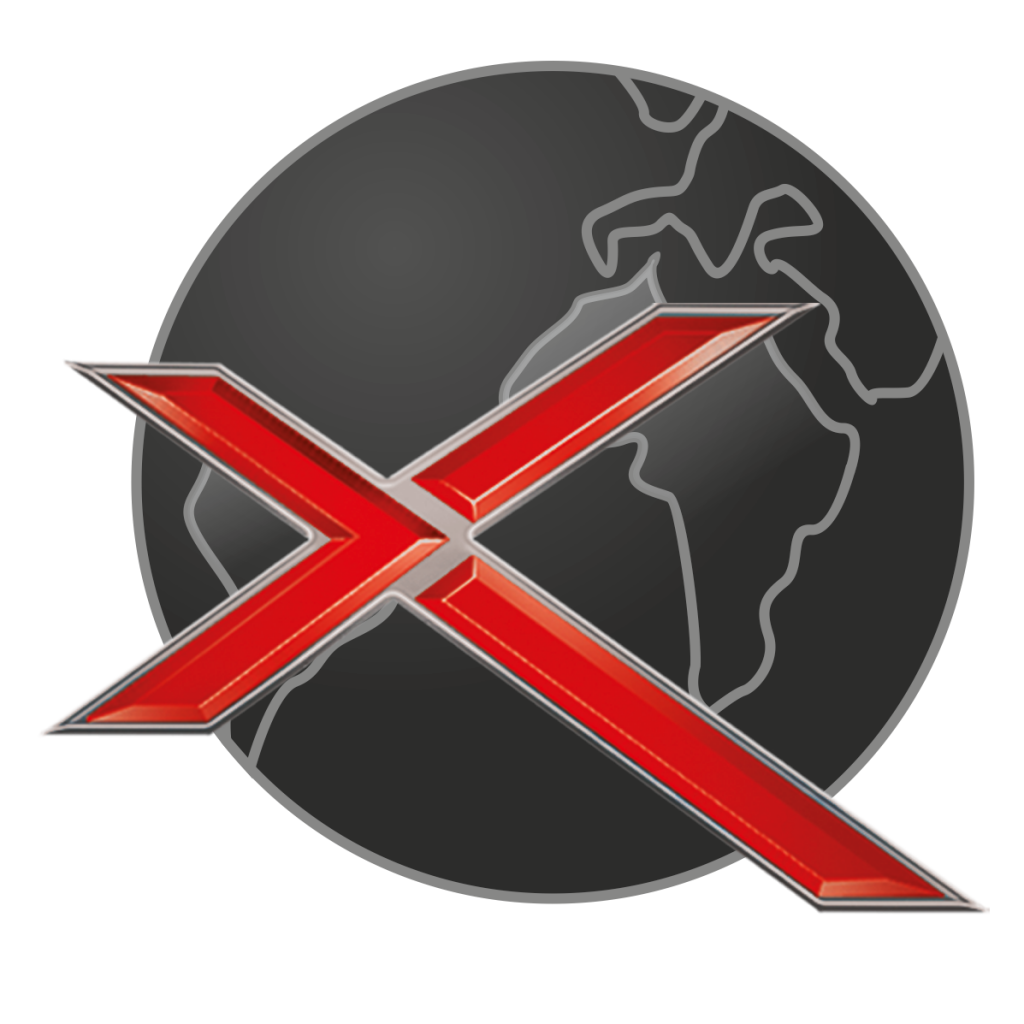 CMS is the specifically developed software for PC, meant for an easy work with a video surveillance system under a remote location of the video recorder. Analog, network, HD-SDI video recorders and cameras can be combined in a uniform system with the help of CMS. Thanks to CMS functions of a remote configuration, a video recorder control and recordings review are available. There is a capability to connect 64 channels. 
·   Mobile client Super mEye for iOS and Android platforms


The special mobile application Super mEye for a work with the video recorder, whichis easy to download and install from AppStore and GooglePlay and doesn't require a high-speed connection, produces an access to a video from any NVR from around the world with the Internet connection. An application of mEye Cloud is used for an IP-camera connection and performs the same functions as Super mEye.

·   "Cloud" service


The prescribed service provides an online access to the video recorder and doesn't require a static IP-address. You need to get in the site www.proto-x.org and enter the login, passsword and unique ID, placed on the DVR case as a QR-code and saved in network settings of the DVR in the P2P line, of the video recorder in the authorization menu for getting the access.

You can get the access to the Cloud service, following links:
www.proto-x.net/cloud      for IP-cameras

www.proto-x.org               for video recorders

Video can be watched using the Internet Explorer v.8-v.10 (inclusively), previously allowing a usage of Active-X components.

Learn more about Cloud service.

·   Pop-up menu

An intuitive pop-up menu enables a quock access to quit the program, switch the camera displaying under the multivision mode, shows the video recorder ID , duplicates the main menu.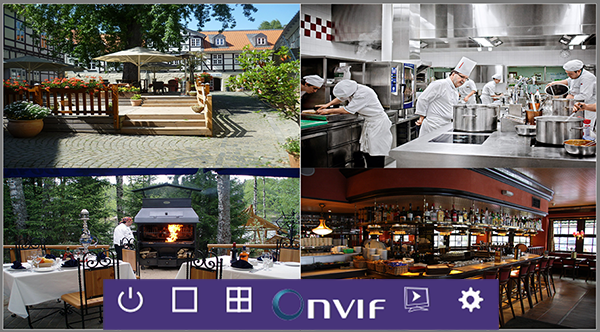 CMS, Cloud service provide a view, PTX-control, back-up and video recorder set-up. The Super mEye mobile client supports the viewand PTZ ontrol only. There is an opportunity to listen for audio from a chosen channel having a micro, connected to the DVR and/or IP-camera, but having connected loudspeakers the system can be used as a two-way voice-chat between a CMS user and a video recorder operator.

Security and alarm settings

·   Video analysys

The video recorder realozes a software procasing of the video with an adjuctable sensitivity and capability of a private masking for detecting movements in a frame. Additionally there is an opportunity to switch on the record an chosen channels under alarm and dump the signal on the alarm output. The supported funnction of the prerecording (2, 5, 10 sec) and postrecording (2, 5, 10 sec) allows to value circumstances before and after an alarm event more preciesly.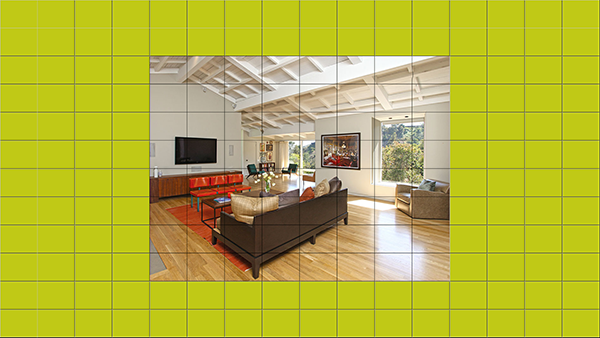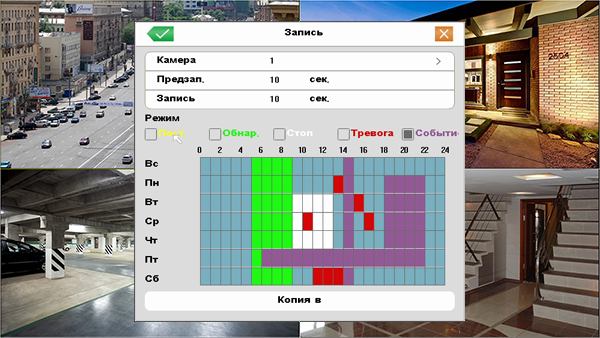 ·   Alarm inputs

Alarm inputs for the video recorder facilities extension, integrated with any security system detectors (smoke, voice, light detectors etc.)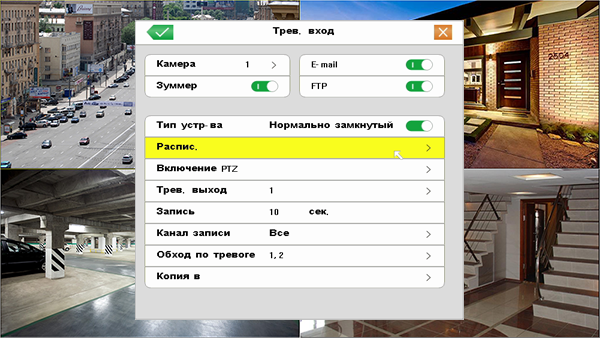 Video loss control system
The given system allows to attach different feedback to the signal loss enebt, for example, a recording from other channels, alarming, sending notifications via preset communication channels.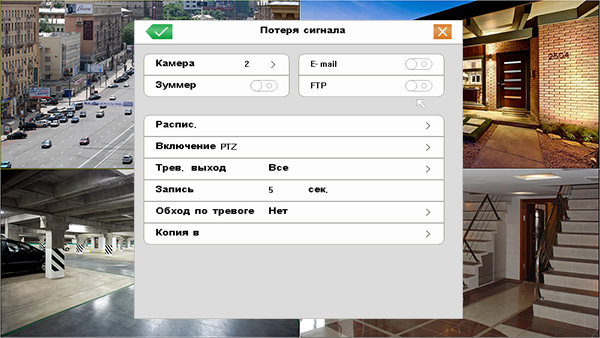 ·   Alarm detectors
All alarm detectors have some capabilities to inform a personnel or observer about a happened event: an alarm messaging on the screen, alarm signalling to an alarm output, switching on the alarm signal of a built-in sound alarm, sending a message with an attached screenshot by e-mail and to FTP-server.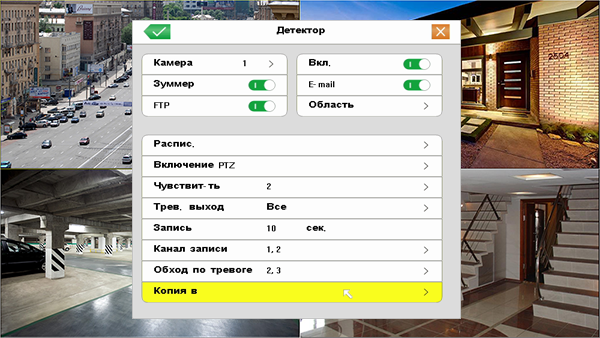 Playback
A new player for a work with saved data supports a frame advance, scaling both in the multivision mode and on the fullscreen channel blayback mode. A back-up can be performed in the playback window directly. An embedded calendar and search by time interval and event simplify the search of a needed video fragment.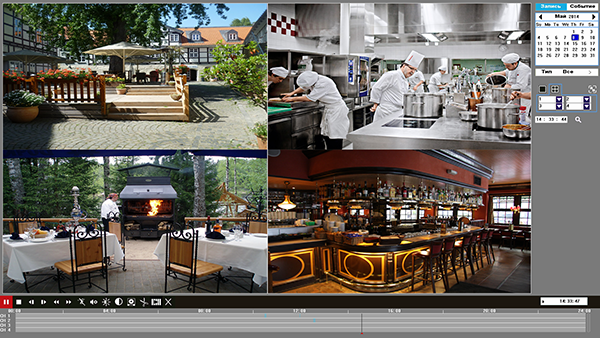 Back-up of a chosen time interval

The back-up of the chosen time interval can be made in the playback menu. You need to mark the beginning and the end of the video time interval to start the auto back-up.